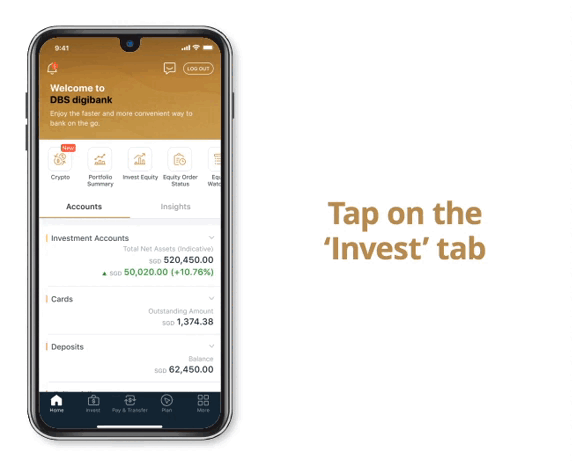 Some 100,000 "accredited" and wealthy customers of DBS will now be able trade on cryptocurrencies themselves with a mobile app, as the Singapore-based bank opens up access to its digital exchange.
These clients, who first have to get in touch with their relationship managers to get onboard, can use the DBS digibank app to trade on the DBS Digital Exchange (DDEx) at their convenience.
The minimum investment sum is US$500 for these accredited wealth clients, who can trade four of the more established cryptocurrencies today – Bitcoin, Bitcoin Cash, Ethereum and XRP.
The use of the mobile app makes it easy to have a quick glance at one's portfolio across both traditional assets as well as digital assets such as cryptocurrency, according to the bank.
Previously, the DBS exchange was only available to a smaller group of customers, namely corporate and institutional investors, family offices, and clients of DBS Private Bank and DBS Treasures Private Client.
"Broadening access to DDEx is yet another step in our efforts to provide sophisticated investors looking to dip their toes in cryptocurrencies with a seamless and secure way to do so," said Sim S. Lim, the bank's group executive for consumer banking and wealth management.
The move comes as several high-profile figures based in Singapore have been embroiled in the spectacular collapse of cryptocurrency prices in recent months.
South Korean prosecutors this week asked Interpol to issue a red notice for Do Kwon, the founder of the TerraUSD algorithmic stablecoin, which caused a crash of the market in May.
Among those caught up in this is Three Arrows Capital, a Singapore-based crypto hedge fund that is now being liquidated. It had bet on and been caught unawares by the fall of the Terra stablecoin.
The Singapore government has voiced increasing concern and considered tougher rules, particularly against regular Joes from jumping onto cryptocurrency trading because of the volatility and related risks.
However, DBS seems confident it is moving in the right direction, by focusing on wealthy clients, presumably ones who can take the losses should things go south.
In its announcement today, the bank pointed to more people investing in digital assets. Seventy-one per cent of high net-worth individuals globally – and 91 per cent of those below 40 years old – have done so, it said, referring to report by consulting firm Capgemini this year.
It also took time to tout its digital exchange as one of the first bank-backed ones in the world, no doubt with the many recent cryptocurrency heists in mind.
DBS runs air-gapped, cold storage technology with multi-layered security architecture to manage cybersecurity risks, so clients can trade within a secure closed loop environment that it operates.