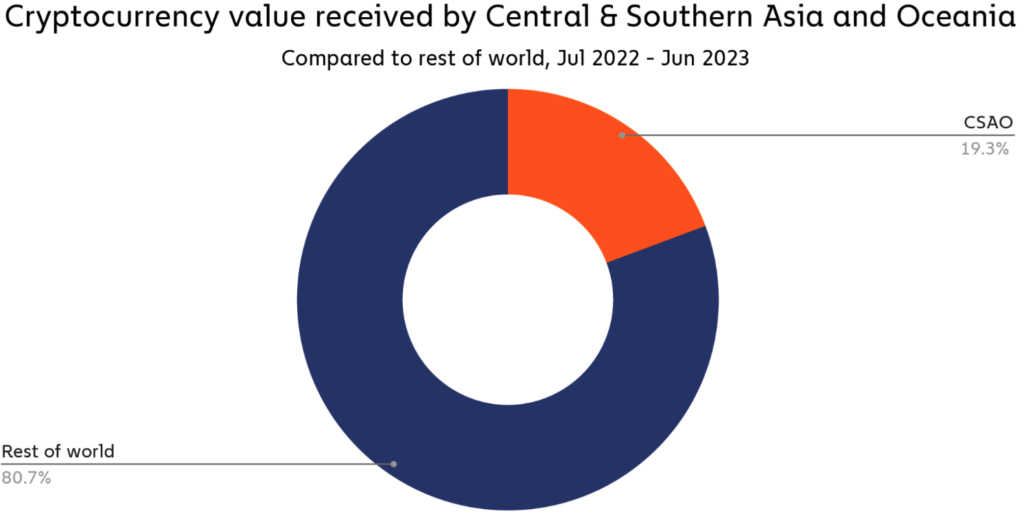 Consumers in India, Vietnam, the Philippines, Indonesia, Pakistan and Thailand are leading the way in crypto adoption.
The latest report on Global Crypto Adoption Index by Chainalysis showed that these countries grouped under Central and Southern Asia and Oceania (CSAO), accounted for 55.8 per cent of regional transaction volume between July 2022 and June 2023, up from 35.2 per cent in the same period last year.
Different factors are driving adoption, said Chainalysis. While centralised crypto exchanges soak up the majority of web traffic in all these countries, India and the CSAO countries advanced differently.
India has emerged as the biggest crypto market in the CSAO region as well as the second largest crypto market in the world by estimated transaction volume, despite a tough regulatory and tax environment. Crypto has been used in the centralised exchanges, smart contracts and as payment for NFTs.
Pakistan and Vietnam each saw a higher share of activity occurring on P2P exchanges, a situation that is common in emerging markets or in countries with stricter capital controls.
In the case of the Philippines, Chainalysis pointed to the popularity of play-to-earn game Axie Infinity which provided entertainment, a way to earn extra cash and giving people a social outlet.
The report quoted Donald Lim, president of the Blockchain Council of the Philippines who said consumers from all walks of life are playing the game. "You'd get into a pedicab and see that the driver had his phone mounted at the top of the windshield playing Axie."
While Axie has lost popularity currently with many Filipino gamers abandoning the game, many of them now have functioning crypto wallets that can be used for other purposes.
In Pakistan, crypto adoption could be attributed to the challenging economic conditions. The rising US dollar eroded buying power while the equities market has tanked, said Chainalysis. Crypto, especially stable coins, said Chainalysis, is the only option for consumers there to hedge.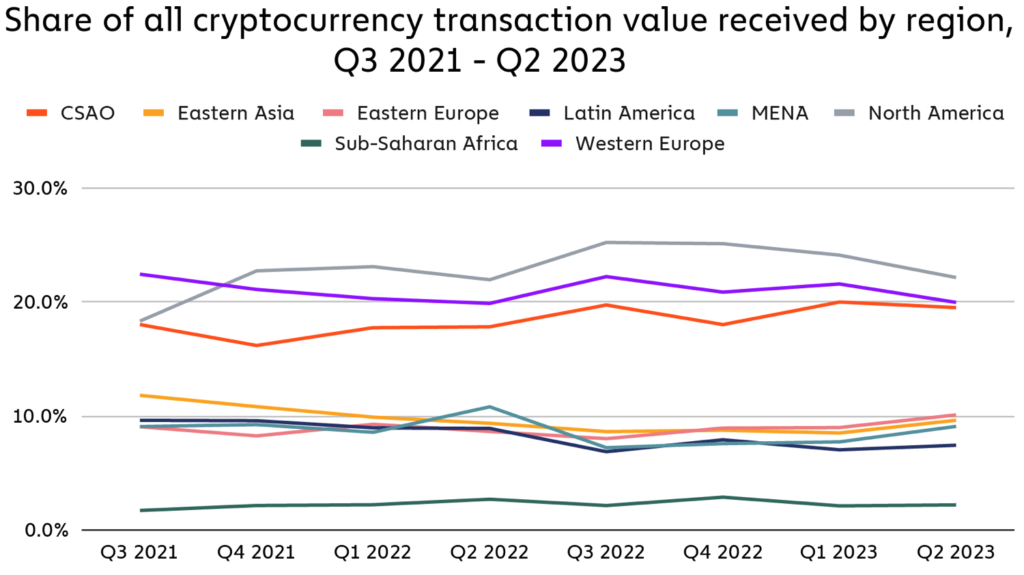 While the circumstances that drive the indices in each country varies, a crucial similarity is that many of these early adopters are countries that fall under the Lower Middle Income (LMI) classification of the World Bank.
According to the World Bank, LMI countries are those with a gross national income of US$1,086 to US$4,255 which would include countries such as India, Nigeria and Ukraine.
Taken together, the LMI countries have seen the greatest recovery in consumer adoption over the last one year, said Chainalysis which added that this boded a very promising prospect for the future of crypto as LMI countries account for 40 per cent of the world's total population.