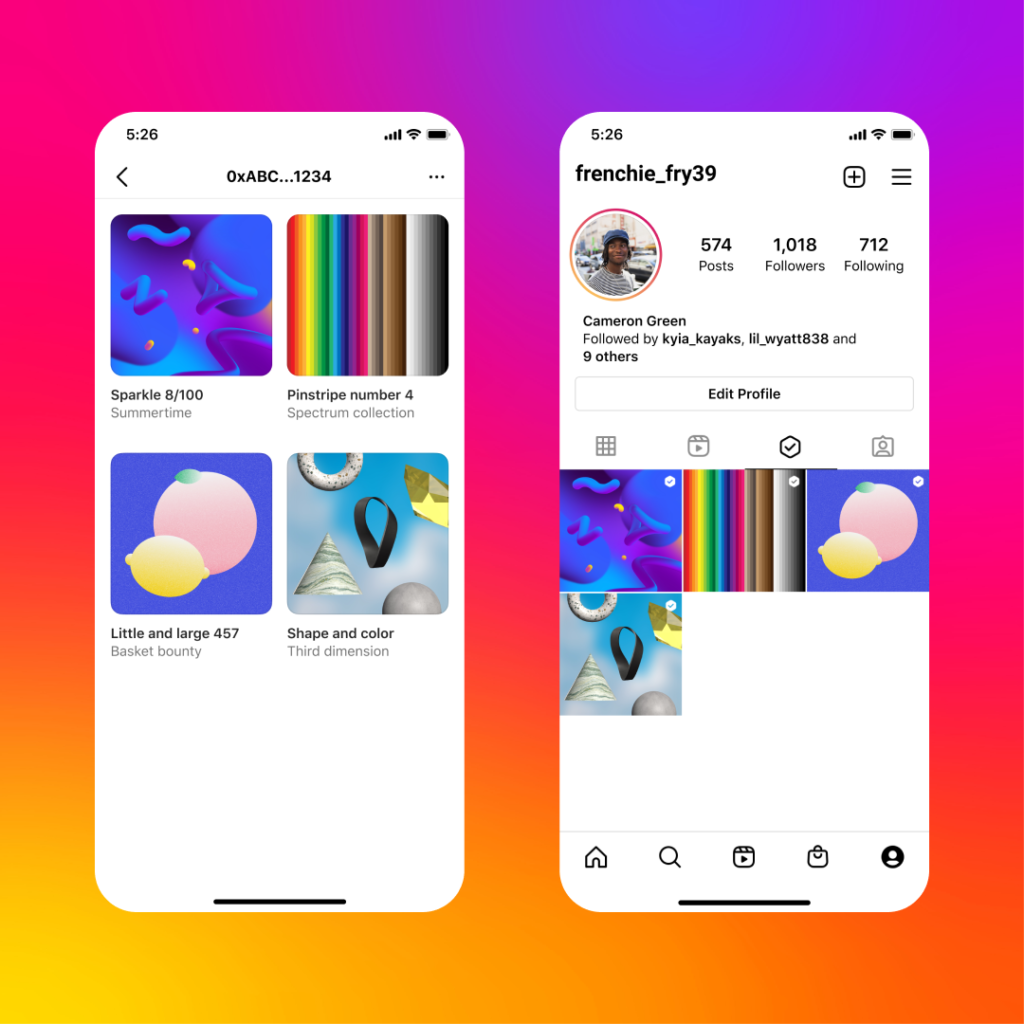 Months after dabbling with non-fungible tokens (NFTs), Meta is expanding the support for digital collectibles on its Instagram social media platform to 100 countries in Africa, Asia-Pacific, the Middle East and the Americas.
This means users around the world, including in Singapore, can share and display NFT artwork they have collected, which could potentially boost NFT adoption exponentially.
To get started, Instagram users have to choose which NFTs from their wallet to share and connect that with Instagram. For now, Meta supports popular ones from Coinbase, Dapper, Rainbow, MetaMask and Trust Wallet.
Blockchains that are will work with Instagram include the expected ones such as Ethereum, Polygon and Flow. Solana support is also coming soon, Meta said today in an announcement.
To share the NFTs, users do as they usually share any picture or video. However, an NFT will receive special visual treatment and can display public information like a description about the collectible.
The post can also tag a creator and collector, in a nod to the "special" status of both the creator and collector.
Meta head honcho Mark Zuckerberg kicked off his company's expanded efforts today by sharing a "soon-to-be" NFT of his old little league baseball card.
In May this year, Meta had started letting selected creators and collectors share their digital collectibles on Instagram. That test was limited to a handful of American creators and collectors.
The company had said then that its efforts would help build support for NFTs, making the space more inclusive to all communities.
In July, Meta had also started to test NFTs with selected creators on Facebook, another of the company's large social media platforms. Of course, it is not hard to imagine Meta allowing NFTs to be shared on an immersive metaverse in future.
Meta isn't the only one pushing for NFTs. Twitter, a preferred platform for many Web3 proponents, already allows premium users to use NFTs as profile pictures. YouTube, too, may embrace Web3 technologies, such as NFTs, to help content creators make money.
However, these efforts come at a time when NFTs and cryptocurrencies have suffered huge dips in value, prompting some market watchers to say that the new asset classes are undergoing a correction after years of hype.
While social media networks seem perfect to boost the fledging NFT technology, content creators still need to make compelling content that offer at least some sort of intrinsic value, rather like traditional artwork.
Celebrity-boosted NFT sales may work in the short term, as will hype-driven buying frenzies, say, for images of bored apes, which have fallen in price of late.
Ultimately, other intangible values, such as scarcity, the creator's standing and the secondary market, all come together to determine a collectible's price. At least with NFT, you can say the provenance won't be in question.