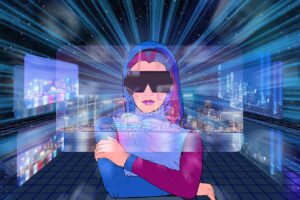 The metaverse has grabbed the attention of marketers, game publishers and army generals to manufacturers, governments and real estate owners.  They see the metaverse as a fresh way to, among other things, engage with customers, test new systems and processes, improve facility management, offer training and provide entertainment.  
Described as the next evolution of the Internet, it is an immersive virtual world which is the convergence of the physical and digital realms and social networks. Currently, there is no one definition for the metaverse but they can be grouped into three pillars, namely one driven by consumer that is in entertainment and non-fungible tokens (NFTs) and the two others driven by businesses and industry. 
The height of the metaverse's popularity was towards the end of 2021 when Facebook changed its name to Meta and announced a strategy to get into the metaverse. The topic is hot, not a single month goes by without a metaverse event held in Japan, Singapore, Australia, China and other Asian countries. 
However, the concept is still at its infancy in Asia except for Roblox and Minecraft games which are played in the metaverse and which have notched up millions of users.  Throughout Asia in 2022, enterprises and industry are interested and are dipping their toes in to understand the technology and its applications. Several Asian governments like China and Japan have also included metaverse development as part of their national economic plans. 
In September, Singapore-based bank, DBS, partnered The Sandbox, to build an interactive immersive experience to showcase the importance of building a better, more sustainable world. Naver Z, the metaverse unit of South Korean internet giant Naver, partnered with Thai telecom conglomerate True to build a global metaverse hub for creators. During Covid-19 years, companies like Accenture used the metaverse to onboard new staff, a trend that is likely to catch on post-pandemic..  
However, trend watchers, investors and industry players Deeptech Times spoke to were cautious about the metaverse development and expansion in Asia in 2023. Two outstanding challenges are that of ease of use and standards. 
For the widespread adoption among consumers, the need to use special bulky headsets to access the metaverse is daunting. Consumers may baulk at wearing them because they are unnatural or uncomfortable. 
Khoong Hock Yun, partner of Tembusu Blockchain Fund explains: "Having an immersive metaverse experience takes money and effort, in turn they negatively impact adoption.  One typically needs to select a metaverse platform to use, create and/or adopt an avatar, and then acquire and wear a VR headset, and then figure out how to navigate and interact in this strange new virtual world."
Zhuling Chen, CEO of RockX, a gateway for crypto finance and blockchain, shares the same opinion adding that building the metaverse is complex involving many stakeholders, business models, and infrastructural layers, on top of a blockchain.
He stresses that it is crucial to create a common standard to promote interoperability between different metaverses, enhance the user experience and encourage adoption.
Enterprises also need to understand clearly what the metaverse can do to improve their businesses. One simple reason is that there are real world experiences that lessen the metaverse adoption for users, says SpaceChain CEO Cliff Beek. 
From his perspective, it is the artificial intelligence that is embedded in the metaverse that can be relevant to both businesses and consumers. He admits to being fascinated by it and is adopting a "wait and see" attitude to observe how it will develop further. 
As for the tokenisation of physical objects into NFTs, Beek stresses the need to articulate clearly how tokens can be expanded to beyond current common application of NFTs as art works. 
In this area, utility NFTs have become more common, emerging as unique, digital assets with different applications such as membership benefits, access to premium, gated content or exclusive entry to real-world experiences.
Philip Tran, chief marketing officer of MADworld, a NFT platform, says the possibilities are endless.  Asian conglomerates, for example, are looking for fresh ways to gain new fans and solutions that thrill and engage audiences such as novel marketing campaigns, online concerts and product introductions. 
"As such, they are willing to front the costs of experimentation in metaverses and NFTs, which will hopefully lead to new and sustained consumer spending and interactions."
Looking ahead, adoption of business and industry metaverse will pick up pace. Singapore-based company Vizzio Technologies "cloned" all of Singapore to create the world's biggest digital twin of an entire nation.  Security firm Aetos set up the Integrated Command Centre (ICC) and will use digital twin technology to provide security services. The ICC, launched in March 2022, is the nerve centre of island-wide operations of 13 security operators. 
Notwithstanding the challenges, the metaverse is an exciting concept with innovative and novel applications emerging in the months ahead. 
gracechng@deeptechtimes.com