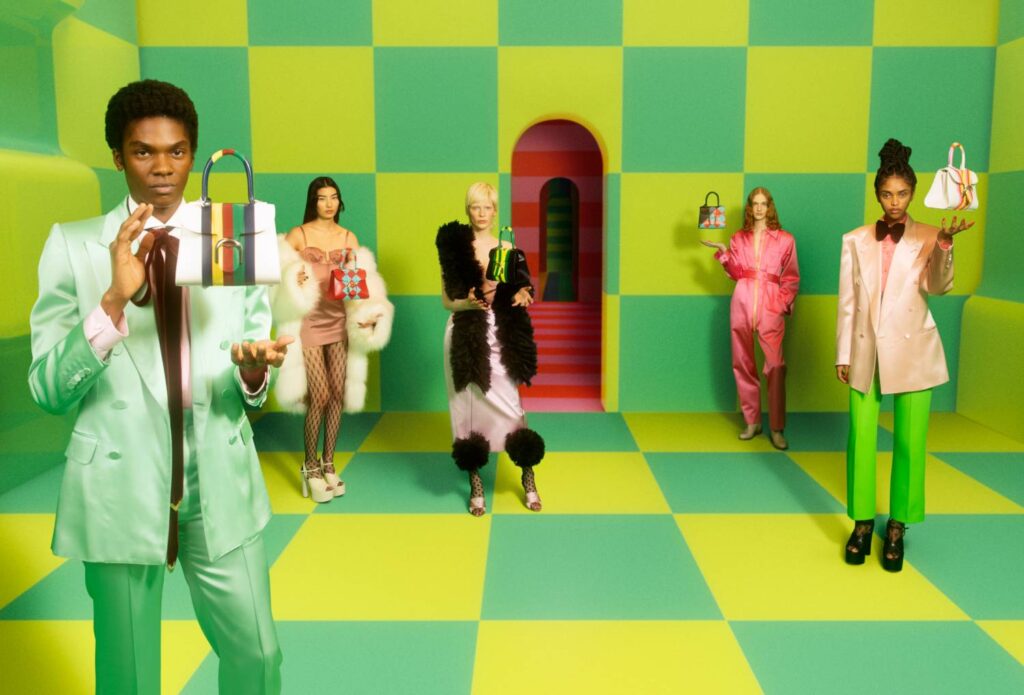 The rising popularity of virtual, decentralised spaces has captivated the attention of many, who see its lucrative potential in providing a new form of business service, and the high fashion industry is no stranger to it.
In August 2021, Burberry launched an NFT collection in Blankos Block Party, in collaboration with Mythical Games, marking it as the first luxury brand to be featured in the game.
This NFT collection includes a limited-edition virtual shark named Sharky B, along with other accessories that players can use to upgrade their in-game characters.
Gucci has its Vault experimental concept space where it offers rare Gucci finds and vintage pieces in addition to exclusive capsule collections.
Balenciaga, another brand under the Kering group, has its own dedicated business unit for the metaverse and collaborated with Fortnite on a collection of digital skins for players.
High fashion's debut into the metaverse is not solely reserved for gaming.
Virtual platforms, such as Decentraland, offer users the opportunity to purchase a digital space within the platform. Akin to purchasing a physical piece of land, brands can build stores or other amenities that avatars can roam around in.
Decentraland hosted the inaugural Metaverse Fashion Week earlier this year. Well-known brands such as Dolce & Gabanna and Tommy Hilfiger were just a few of the brands that participated in the virtual event.
It offered consumers the opportunity to purchase both the digital items – in the form of NFTs – as well as the physical versions of these items.
Charles & Keith had also participated in Metaverse Fashion Week, boasting its very own digital pop-up booth dressed in Spring 2022 florals.
It allowed customers' avatars to try on digital items, just as they would in the physical stores. Customers are then given the option to purchase the item in real life direct from the Charles & Keith online store.
Why are fashion companies suddenly jumping on the metaverse bandwagon?
Once thought to be reserved for deep tech junkies and those interested in cryptocurrency, the metaverse has become a part of the everyday lives of ordinary people, attracting investors and avid gamers.
Its popularity can be partly attributed to the onset of the Covid-19 pandemic, which forced consumers to turn to online shopping to satiate their shopping desires.
To keep up with the shift in consumer demand, many companies turned to cross-reality in hopes of providing consumers with an optimal online shopping experience.
Consumers nowadays are well-acquainted with technology as more services shift online. This means that businesses also have to be strategic in providing online options for their consumers to facilitate the flow of business, taking advantage of the speed and convenience of Internet use.
As trendsetters and image makers, luxury brands must constantly be ahead of the curve. By adopting metaverse technology, they can present themselves as the bold, risk-taking industry that has been central to their brand, and embody what consumers love so much about them.
Furthermore, limited-edition items play into the exclusivity of the brand and the brand ownership, adding to the brands' competitive advantage as they produce items only select customers are able to get their hands on, while drumming up demand and excitement at the same time.
Innovation lies at the core of luxury branding and its business strategy.
We can only be excited about what the future holds for those that are bold enough to take risk and their first step into the metaverse, like what the high fashion industry did before everybody else.