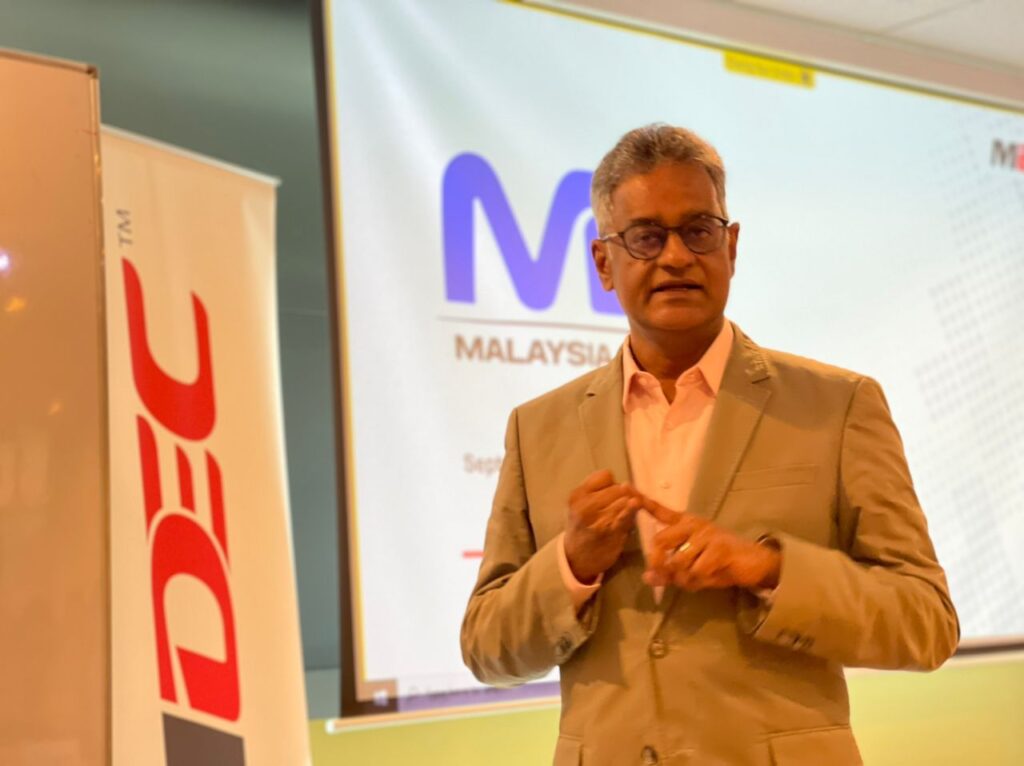 Malaysia has stepped up efforts to double its digital exports in areas like artificial intelligence, smart cities, digital platforms and fintech solutions to reach more than US$2.6 billion over the next three years, up from USD$1.3 billion reached between 2016 and 2022.
The efforts include a global programme to promote about Malaysian tech companies overseas and to plug Malaysian entrepreneurs into the global tech and investor ecosystems. This plan is part the Malaysia Digital strategic initiative and is spearheaded by the Malaysia Digital Economy Corporation (MDEC) which leads the digital transformation efforts in the country.
Gopi Ganesalingam, MDEC's senior vice-president, Digital Exports, said the goal is to increase the contribution of digital exports to Malaysia's GDP, which will lead to the creation of new jobs, improvement in productivity and increased tech innovation.
The country has seen rising digital trade of which digital exports is a component. In 2021, digital trade contributed about 23.2 per cent of Malaysia's GDP, up from 19.1 per cent and 22.6 per cent in 2019 and 2020 respectively. Numbers for 2022 are not available yet.
The digital export programme is a key component of Malaysia Digital, the successor to the Multimedia Super Corridor (MSC), which was set up about 26 years ago, to develop the nation's digital capabilities and boost country's digital economy.
In a recent exclusive interview with Deeptech Times, Ganesalingam said that early overseas missions between 2016 and 2022 were successful, inking new contracts in sectors like Internet of Things, artificial intelligence, and e-commerce.
Post-Covid-19, the overseas trade missions will focus on e-commerce, fintech and cybersecurity sectors as they are experiencing good tailwind, he said. The trade missions will be targeting Japan, China, United States, United Kingdom and Australia and countries in Southeast Asia, Scandinavia and Africa.
His vision is to grow more global players from the Malaysian tech ecosystem like Carsome, an e-marketplace for selling cars. Malaysia's first unicorn, it reportedly has a market value of about US$1.7 billion and has about 50 offices in Malaysia, Thailand, Singapore and Indonesia.
There are other Malaysian tech startups with potential to become unicorns and "my aim is to champion them and put the wing beneath their wings", pointed out Ganesalingam. Prior to joining MDEC eight years ago, he was a finance professional and an entrepreneur who has served in executive and board positions in the Asia Pacific region for more than two decades years before he joined MDEC.
To help the Malaysian tech startups grow faster, he aims to reduce their challenges like finding talent. To ensure that Malaysian undergraduates are trained in the latest technologies, the Malaysian government has tied up with 25 local universities like Mara Technological University (ITM) and University of Putra Malaysia (UPM) to "intervene" in curriculum development, said Ganesalingam.
"We work with large tech companies to introduce their technologies into the curriculum so that our students learn about the latest inventions and innovations. As a result, about 95 per cent of technology-related graduates are work-ready and get employed a month or two after graduation."