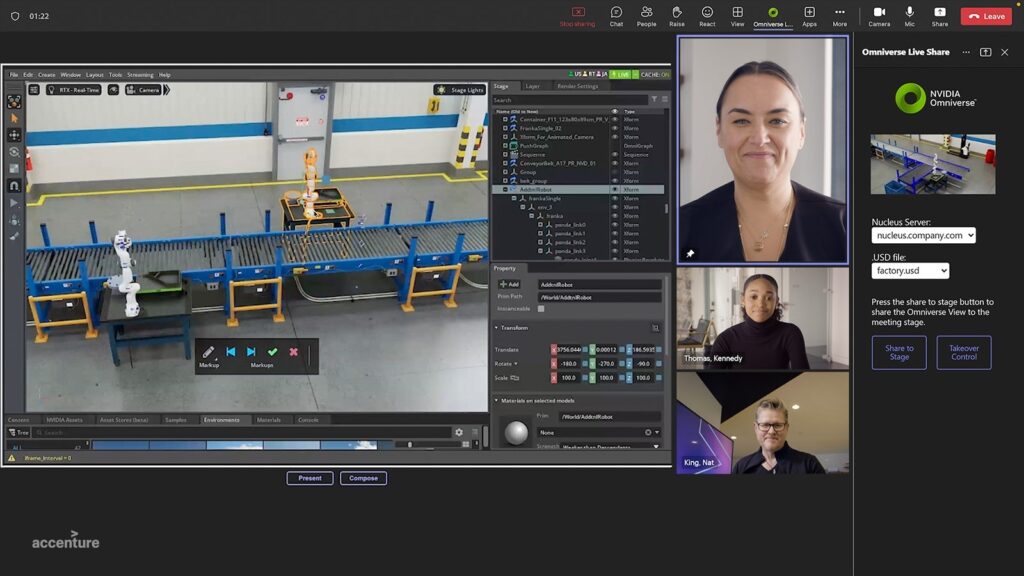 Nvidia has inked a deal with Microsoft to use the Azure cloud platform to offer industrial metaverse and AI supercomputing capabilities to potentially hundreds of millions of business users on a large scale.
The partnership, announced on March 21, will enable businesses to build industrial metaverse applications, for example, for training or digital twin purposes.
It will also offer generative AI capabilities to these businesses that are on Microsoft's Azure cloud service, giving them easy access to powerful tools that might otherwise be costly or difficult to obtain.
To do this, Microsoft Azure will host two new cloud offerings from Nvidia. The first is its Omniverse Cloud, a platform-as-a-service that offers a full-stack environment to design, develop, deploy and manage industrial metaverse applications.
The second is Nvidia DGX Cloud, an AI supercomputing service that gives businesses access to the infrastructure and software needed to train advanced models for generative AI and other groundbreaking applications.
The companies are also bringing together their productivity and 3D collaboration platforms.
Microsoft 365 applications such as Teams, OneDrive and SharePoint will be connected to Nvidia Omniverse, a platform for building and operating 3D industrial metaverse applications.
In a demo created by consulting firm Accenture, the companies showed how corporate users connected on Microsoft Teams could edit and work on a digital twin of what looked like a factory floor.
At least according to the demo, such "3D collaboration" allows teams to work on a complex 3D design as if they are using another Microsoft 365 app.
Despite some concern about its recent advances in AI with OpenAI, Microsoft appears to be on a roll when it comes to pushing groundbreaking technologies from the labs to the actual business environment.
This latest collaboration with Nvidia looks set to bring new AI and metaverse capabilities to more businesses, enabling them to create more value with the emerging technologies in the years ahead.