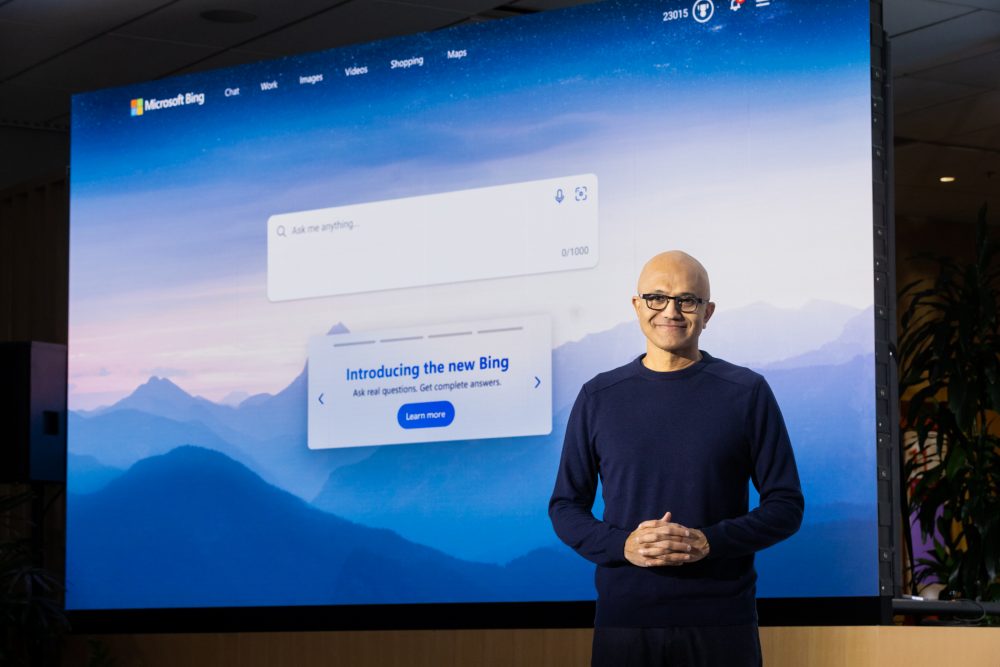 It is a momentous inflection point for the search industry. Microsoft signalled its ambition to become a search leader with the unveiling of a new Bing search engine.
The new Bing will be powered by AI advances that have been taking the world by storm since the launch of ChatGPT conversational AI more than two months ago
The new Bing will deliver better search, more complete answers, a new chat experience and the ability to generate content. The technology is also available on its Edge browser.
The AI-driven search engine will give answers in plain language, combining its own strengths in web search with ChatGPT's advanced AI capabilities. It will also draw more from live data on the Internet to respond to queries.
Microsoft is now in a strong position to challenge Google, confident of its AI advances arising from its own research efforts and enhanced by the work of OpenAI, the developer of ChatGPT.
Microsoft CEO Sathya Nadella said it was a new day in search as he threw a not so subtle challenge at Google, although he did not name the company during the press briefing to unveil the new Bing. The briefing was held in its headquarters in Redmond, Washington.
Google has a stranglehold over search with more than 84 per cent of the market. In the recent quarter that ended December 2022, Google reported its search revenue at over US$42 billion. Microsoft has about nine per cent of the market.
Describing the AI tools in Bing as a co-pilot, Nadella said it will assist users with everyday tasks such as compare content and write social media posts with a specific format, length or tone.
Nadella believed "AI is going to reshape pretty much every software category".
The company is now aiming to infuse OpenAI's technology, including ChatGPT, to its cloud customers and add the same power to its suite of products.
Microsoft was an early investor in OpenAI, which developed ChatGPT. Recently, it deepened its collaboration with by investing another tranch of more than US$10 billion in the company.
Yusuf Mehdi, Microsoft's corporate vice-president who oversees the search business, said at the briefing that the Bing search engine is powered by AI and run on a new, next generation "large language model" that is more powerful than ChatGPT.
Currently users only can see a preview version of Bing. There is an option to start a chat, which then brings you to a ChatGPT-like conversational experience. It is a "light" verson of the AI-powered Bing, but the millions of queries and the responses users are asking will help Bing "learn" and improve.
Currently, the new Bing is in preview mode. Microsoft will grant users access to the final new Bing but they will have to join a wait list on bing.com.
Read Grace Chng's Interview with ChatGPT here. https://deeptechtimes.com/2022/12/19/interview-with-chatgpt/
Has Google lost the AI race?
The AI race has begun in earnest. Many companies like Anthropic and Character AI are developing their own models. Microsoft's unveiling of the new Bing has stolen a march on Google in terms of product announcement.
It was Google who founded the underlying technology called generative pre-training transformer architecture that ultimately led of ChatGPT. Google and other companies like Meta, have been doing research in this area for many years.
However, Google and Meta are more cautious about making their tools available to the public because they have much to lose from any AI missteps. Media reports claim that they fear liability if its AI tool violates users' privacy or copyright, opening them up to potential legal suits.