Crypto adoption in Southeast Asia is accelerating with Vietnam and the Philippines taking the top two spots globally primarily due to play-to-earn (P2E) games and inflow of remittances.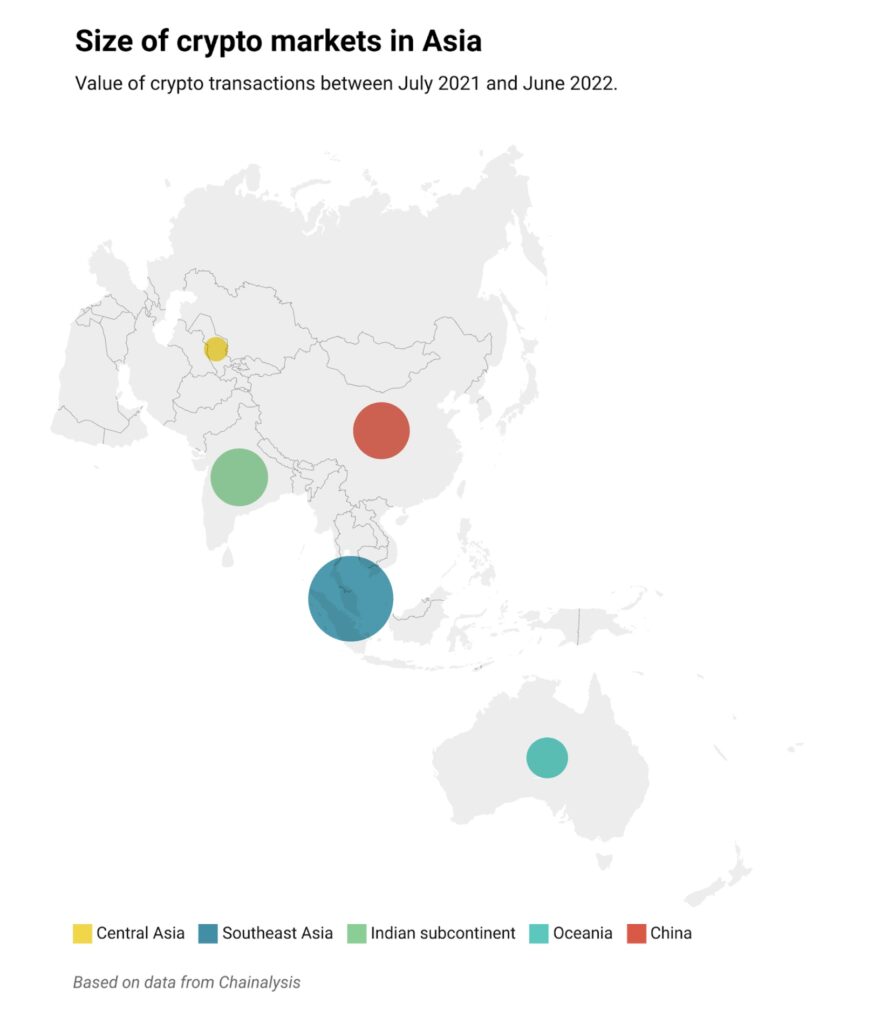 Vietnamese consumers are increasing their use of crypto because they are playing crypto games. The country hosts up-and-coming crypto gaming start-ups like Sipher and Ancient8, and top-grossing NFT-based P2E game Axie Infinity which is developed by Vietnamese studio Sky Mavis.
About 23 per cent of Vietnamese have played a P2E game, according to Chainalysis' recently released Geography of Cryptocurrency Report. 
One-fifth of Vietnamese have used or owned crypto, said the annual report on the adoption of crypto in the world. Apart from P2E, Vietnamese consumers are also spending crypto over centralised exchanges and decentralised finance systems.
The report noted that the popularity of crypto-based gaming had attracted more developers to this sector who in turn, published more games, further entrenching Vietnamese consumers in the crypto ecosystem.
This has propelled Vietnam to become the first country in the world on the 2022 Global Crypto Adoption Index which was released together with the report. The Index measured crypto activity between July 2021 to June 2022.
In the case of the Philippines, it made a giant leap from 15th to second place on the Index. An estimated 25 per cent of Filipinos had played a P2E game. At one point, players based in the Philippines made up 40 per cent of Axie Infinity's global player base.
Crypto is gradually edging into the remittance markets of these two countries. Remittance flows account for five per cent and 9.6 per cent of Vietnam and Philippines' GDPs.
Chainalysis said crypto, especially stablecoins, help bridge the gap in the remittance market where recipients lack access to traditional banking channels and where money transfer services like Western Union charge high fees. Using crypto, recipients can quickly convert the stablecoins into fiat currency on crypto exchanges. 
Manan Vora of Singapore-based wallet infrastructure provider Liminal, explained in the report that this trend was sensible. "Why pay 3 per cent to a banking intermediary and wait two days for the funds to reach them when USDT/USDC can reach them within one minute, with almost zero fees?"
USDT and USDC are digital stablecoins pegged to the US dollar and physical reserves.
Chainalysis also pointed out that in most Asian countries, the majority of crypto activity occurred on centralised exchanges. Thailand, Australia and Singapore each saw more than US$100 billion in crypto exchanging hands over these exchanges. 
India is another key crypto market, with US$172 billion in crypto transactions which are partly driven by the large remittance market. Blockchain-based payment providers in India are disrupting the traditional intermediaries and many Indians working overseas are turning to crypto to send money home.
NFTs fueling crypto usage
Overall, NFTs are the main driver of crypto transactions in this region which includes the Indian sub-continent, Central Asia, Southeast Asia, Australia and New Zealand. Fifty-eight per cent of DeFi-related web traffic from users between April and June 2022 was NFT related, said the report.
This can be explained by the intimate link between P2E games and NFTs. The report stated that in most blockchain games, the in-game items are NFTs like Axie pets in Axie Infinity and Sneakers in STEPN. These items can be resold on different NFT marketplaces, like MagicEden and OpenSea in Thailand, Vietnam and the Philippines.
Elsewhere in Asia, China remains the biggest crypto market in the region and fourth globally. The market declined for a bit following the Chinese government's ban on all crypto trading in September 2021. But the market bounced back recently, indicating that China's crypto market remains strong.
Crypto adoption is also picking up pace in Japan, where transaction volumes increased by more than 113.2 per cent. Unlike South Korea and Taiwan, Japanese consumers are buying and selling NFTs and trading on decentralised platforms like Uniswap, 1inch, and TokenIon. Japan's decentralised crypto transaction volume is close to China's total of US$67.6 billion. A bonus point for Japan is that it has quality intellectual property from anime, comics, and video games which signals potential for future NFT as well as Web3 applications.
A key takeaway from this report is that the heavy interest in NFT and P2E games feed into the blockchain-based entertainment innovation. Game-centric blockchain developers like Polygon and Immutable X in India and Australia respectively are attracted by the millions of consumers who are playing these titles in this region.
This story was written by Ng Woon Neng.