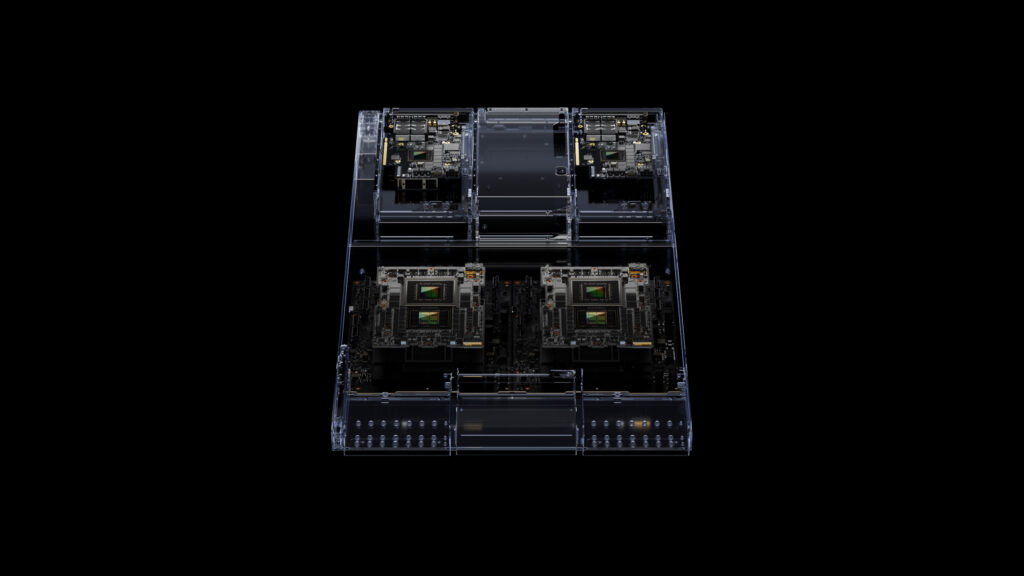 Chipmaker Nvidia unveiled a more powerful processor and a new AI service to step up its push into the AI space.
The next generation GH200 Grace Hopper superchip (image above), named after the pioneering female engineer and US Navy Rear Admiral, is specially equipped to handle complex generative AI algorithms.
The superchip integrates a powerful CPU and GPU which will expand the capabilities of existing data centres and meet the demand for large scale AI and high-performance computing tasks that need to be carried out at lightning speed, said Nvidia CEO Jensen Huang in his keynote address at SIGGRAPH on August 8 in Los Angeles, United States.
The new release of the GH200 Grace Hopper super GPU boosts the amount of high-bandwidth memory to improve throughput and significantly increase performance.
Huang said that the chips will be up and running in servers beginning in April next year.
Nvidia also launched a new service designed to streamline the development of AI-enabled applications. Called AI-Workbench, it will help to deliver models and specifications for developers to scale up to data centre type of applications.
AI-Workbench is a Nvidia collaboration with AI software specialist Hugging Face, a company that develops tools for building applications using machine learning. This union will help supercharge the adoption of generative AI using large language models for industry-specific applications, including intelligent chatbots and search.
Huang also announced a new release of its digital twin solution called Ominiverse. BYD, a Chinese automotive and electronics manufacturing company, along with Mercedes Benz has selected WPP, the world's largest marketing services' organisation, to build and deploy its next generation of car configurators on Omniverse Cloud.
Powered by GenAI, BYD and WPP can connect their various computer-aided designed and 3D content creation tools into a pipeline that builds a super digital twin to facilitate the making of the Denza luxury electric car.
To build a configurator today, hundreds of thousands of 2D images must be rendered with every possible variant of the car. But with Omniverse, WPP and BYD can create a single super digital twin of a car model based on the original engineering and design data of the vehicle, saving a considerable amount of time and money.
Other new products
At SIGGRAPH, Nvidia also unveiled new Ray Tracing Texel eXtreme (RTX) workstations which will be available to users later this year. The RTX 6000 ADA generation GPUs are currently the most powerful desktop GPUs for high performance networking. Depending on the user's requirements, they may be configured to meet the needs of all AI practitioners and data scientists, content creators, designers, architects, engineers and artists.
For anybody working with Omniverse on industrial digitalisation applications or graphics-intensive work, these systems will be available from Nvidia's partners including Dell, HP and Lenovo.
Fleshing out the high end of Nvidia's portfolio, three new desktop GPUs will be announced, namely the RTX 4000, RTX 4500 and the powerful RTX 5000.
Nvidia is the new darling of the stock market. Its current market capitalisation stands at US$1 trillion, and is one of the top three tech market stocks. Given that the US company is virtually unchallenged in the AI-heavy GPU arena, it is expected to hold its position as market leader in the GPU hardware space for the foreseeable future.
This article was written by contributor Radhika Wijesekera.